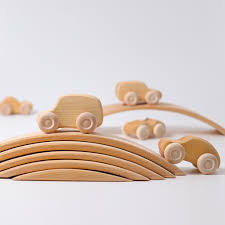 GRIMM'S 
GRIMMS - All Grimm's toys are produced and hand painted in small factories within Germany.  Grimm's developes toys that help children discover their own creativity through simple and reduced shapes that leave room for independent arrangement. They are one of Europe's most beloved companies for natural toys.
VILAC 
Vilac's wooden toys are made from sustainably sourced wood and are made to both inspire young ones and to survive the play that goes along with busy little hands. With artistic licensing from Ingela P. Arrhenius, Nathalie Lete, and more, Vilac toys have an unmistakable European charm and warmth to their designs.
TEGU
Tegu is a toy company based in Honduras and the United States that sells magnetic wooden toy blocks. We believe that every child possesses the ability to build, create, and imagine. Tegu blocks are a canvas for their imagination. No instruction manuals or electronics, just toys that inspire limitless creativity across all ages.